Mab Miniature Angle Beam calibration block
Mab Miniature Angle Beam calibration block
Also known as a "Rompas" block. This ASTM and US air force miniature angle beam block is a substitute for the DSC block for distance, beam index, refracted angle and sensitivity calibration.
Design:
Contains a 1 inch radius opposite a 2 inch radius and a 5/64 diameter x 0.75 inch deep flat-bottom hole.
Conforms to:
In accordance with ASTM E164 and US Bureau of Public Roads, Type B specification.
Dimension:
1 inch thick, metric versions available.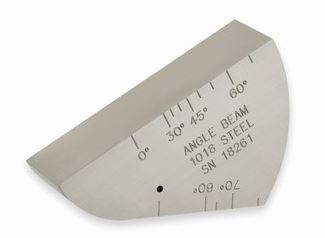 ---
© Copyright 2016 morningsunit.com. All marks used on this site are the property of their respective owners. Privacy Policy Terms of Use Credits Site Map